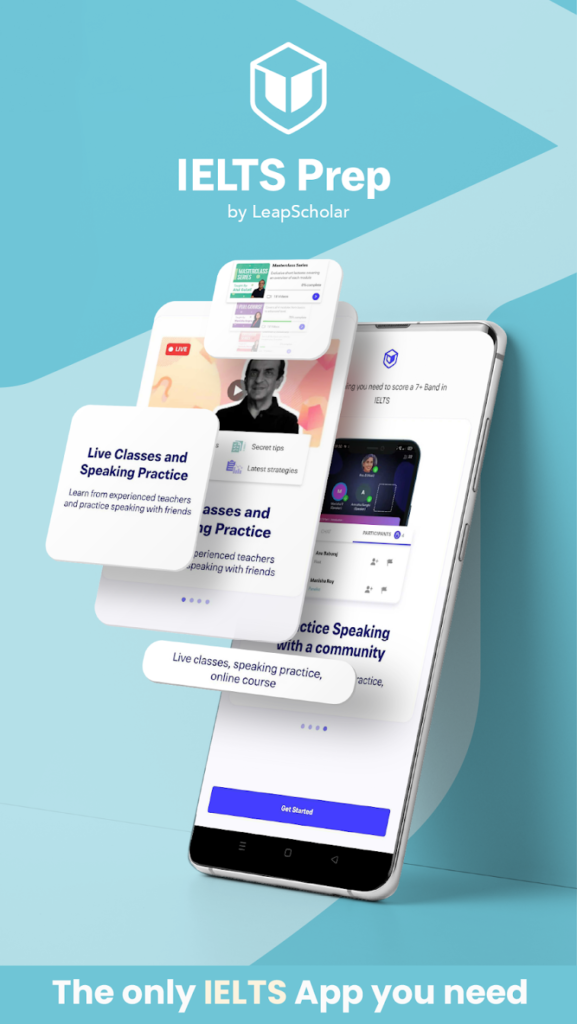 Download this App for complete IELTS Preparation guidance:
– Attend daily live IELTS classes for free on topics such as IELTS Speaking, IELTS reading, IELTS Listening & IELTS Writing!
– Practice and improve your speaking with peers across India in Speaking Rooms
– Practice 500+ IELTS questions to score 7 Bands and above
– Daily Word of the Day to improve your vocabulary
Free live classes on IELTS Speaking, IELTS Writing, IELTS Listening & IELTS Reading, free IELTS practice materials for all 4 modules and 2-4 week crash courses that help you get IELTS Band 7 and above at highly affordable prices!
Our faculty is the best in India-certified by IDP, British Council & Cambridge. We have created the best IELTS preparation materials for you.
Why choose the IELTS Prep app by LeapScholar?
>Affordable. We provide a wide range of IELTS prep resources at affordable prices.
>Trusted. More than 2.5 lakh students have benefited from our daily free IELTS practice tests, live IELTS classes, and Masterclasses.
>Result-oriented. 90% of students who took IELTS exam guidance from Leap scored 7+ bands.
>User-friendly. The app is super easy to use, with an average rating of 4.5/5.
👨‍🏫IELTS MasterClass is a 10 hours crash course that covers all aspects of the IELTS exam. All 4 modules are covered with specific tips & tricks
🎓IELTS Prep by LeapScholar is the only app that provides free mock tests.
👥Unique speaking rooms for the IELTS preparation of speaking modules to perfect your English speaking.
👩🏻‍💻 Free counselling sessions with experts to map out your study abroad journey. The counsellors are available via chat and video call support to guide your application process.
📜The only IELTS prep app that provides extra classes to improve your grammar with free English tests.
👩🏿‍🏫IELTS prep coaches will be your speaking buddies during the entire IELTS exam journey and beyond to help you realise your study abroad dreams. These coaches will give you personal feedback and share exam trends.
📚 Get access to exclusive resources, including 500+ MCQs, speaking cue cards, vocabulary lists, and grammar modules, along with 100+ IELTS practice tests with 50+ hours of high-quality recorded lectures and free English tests.
💻IELTS boot camps with activities like an evaluation by experts, timed mock tests, and much more. Interact closely with experts for queries in the camp.
Features and Highlights:
IELTS Premium: IELTS premium has two variations of 1-week and 4-week courses. In the premium course, you get personalised guidance from experts. Five free mock reading and writing tests are available for students who opt for the premium version.
IELTS Plus: This is a crash course that extends for two weeks and includes daily IELTS live classes with experts. The course allows you lifetime access to pre-recorded sessions, free mock tests, and IELTS practice materials.
LeapScholar is South Asia's largest study abroad platform. IELTS Prep app by LeapScholar is your one-stop solution for your study abroad dream.
More than a million students have trusted us with their IELTS prep journey. Download the app today!
Our IELTS Plus Programme offers:
> Live classes with top educators of India
> Speaking Clubs to practice speaking with your peers
> Mock test practice to strengthen your skills in all IELTS sections
> Personal feedback on essay writing
> Exam trend and analysis to understand the exam pattern, scoring system, and common mistakes to avoid
Follow us for useful tips and strategies to give yourself an edge in the IELTS exam!
Join our Telegram Channel for daily exercises, IELTS practice tests, live IELTS classes, tips, and tricks, and interact with thousands of other aspirants http://ls.leapscholar.com/telegram
Instagram: https://ls.leapscholar.com/3oEgb5j
YouTube: http://ls.leapscholar.com/39Fmkdp
Facebook: http://ls.leapscholar.com/2NVTTPP
Website: http://ls.leapscholar.com/2MTaIKH
Important Link