Finding and applying for internships and fresher jobs that you want is now even easier with Internshala's free app for students and freshers. Browse through opportunities offered by 150,000+ companies in various profiles and locations all across India and apply easily to the ones that excite you the most.
About Internshala Internships-Jobs
Connecting 65,00,000+ students with 100,000+ companies in India, Internshala has been the most trusted platform for internships in India; the one-stop place for students to gain work experience, earn exciting stipends and begin their career.
Recently, Internshala has also introduced fresher jobs on the platform where students can search for in-office jobs as well as remote jobs.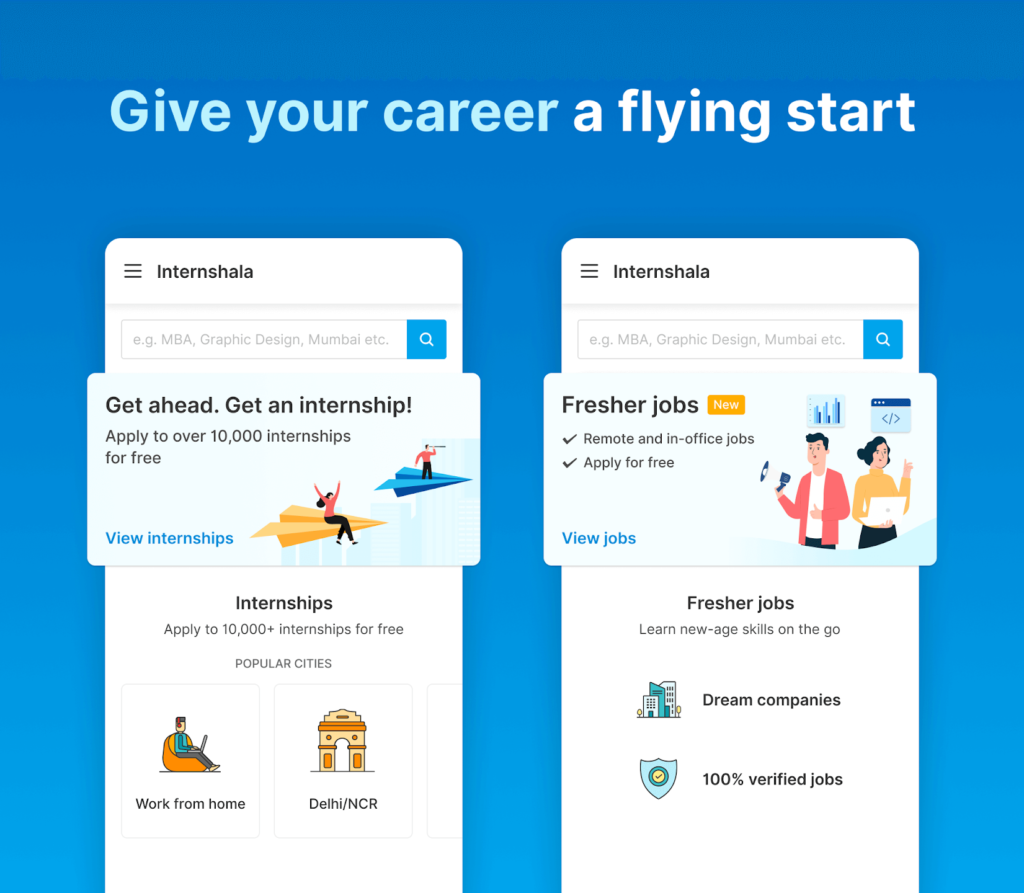 Why use app:Internshala Internships-Jobs
🧐 1. Quick Search – Quickly search for internships and jobs by –
a) Stream – Content Writing, Mechanical Engineering, Civil Engineering, Computer Science, Law, MBA internships and more.
b) Location – Delhi, Mumbai, Bangalore, Pune, Chennai, Kolkata and other cities across India.
c) Company – 100,000+ companies including top brands, start-ups, NGOs and more.
d) Duration – internships ranging from 1 to 12 months.
You can also go for online jobs/internships or work from home jobs/internships or remote jobs if you are not available for an in-office internship or job.
🚘2. Apply on the go – Apply for internships and jobs anywhere, anytime at your convenience.
🔔3. Internship and Job Alerts – Get instant alerts on new internships and jobs posted on Internshala and never miss out on exciting opportunities.
👆4. Easy Login – Login/Sign up with your Google+ account in just one click or register with your email id.
📑5. Resume Builder – Create a Resume in the app itself. Edit and update it at your convenience.
🥳6. Free – It's free! Yes, search and apply to internships and jobs for free on Internshala.
Download the app now and get ready to start your career with Internshala.
DOWNLOAD LINK:Internshala Internships-Jobs