With the plethora of collection from Gujarati film songs, devotional songs (Bhakti sangeet), Navratri Traditional Garba, Sugam Sangeet, and forever loved Ghazals by Ghayal, Mariz, Befam, Ramesh Parekh and many more. You get to choose your favourites from millions. Browse through Top trending songs, recently played songs, curated playlists or Editor's pick.
Thousands of songs to choose from your favourite artists like Aishwarya Majmudar, Jigardan Gadhvi, Alap Desai, Ashit Desai, Bhaskar Vohra, Mehul Surti to Lata Mangeshkar, Mohammed Rafi, Manna Dey, Asha Bhonsle, Usha Mangeshkar, Vibha Desai, Kaumudi Munshi, Praful Dave, Mahendra Kapoor.
Literature lovers can choose from hundreds of audio stories on Vachikam, and enjoy the best of Gujarati poetry in our Makhmal section. Explore popular and mythological stories, poems and facts in our Children's Section, Jhagmag.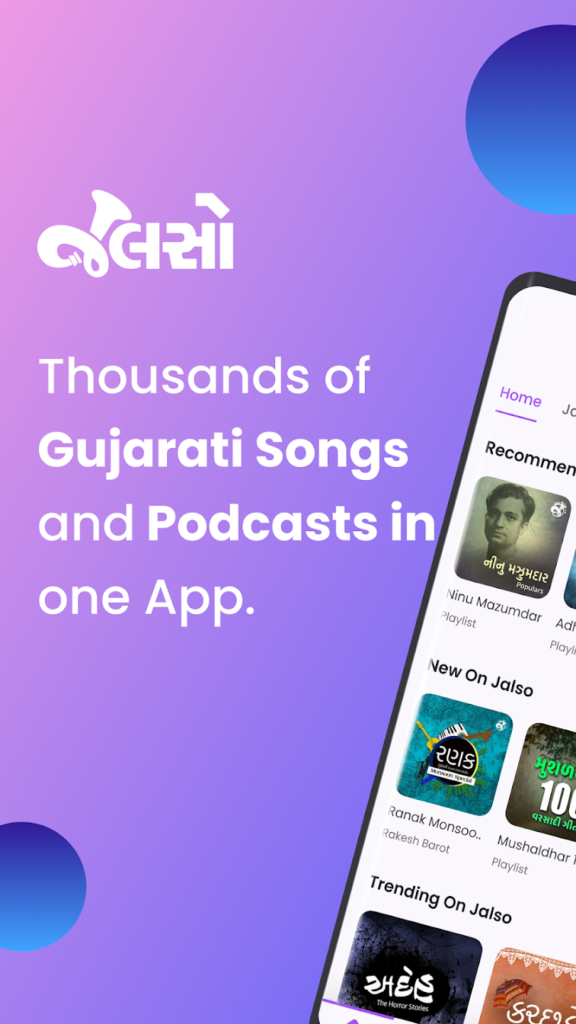 If you're a podcast fan, you'll be spoilt for choice when it comes to Jalso! Choose from our many podcasts on mythology, micro fiction, humour, music therapy, travel, inspiration and more!
Key Features:
Jalso app comes with a vibrant yet user-friendly interface. It allows easy music streaming experience. This app comes with free and unlimited limited streaming. Not only that, Jalso does much more:
★ HD music streaming that covers the widest range of Gujarati music
★ Personalized recommendations for discovering more music!
★ Includes genres from Gujarati Film Music, Gujarati Folk songs, Chartbusters, Ghazals, Sugam Sangeet, Contemporary Gujarati songs, Navratri Garba songs, etc.
★ Offers Gujarati podcasts and curated content for Children
★ Also available are classic and popular Gujarati stories as Audio stories – Vachikam
★ Easy Play All button to listen to the compete album
★ Easy share button to share your favorite music with your friends via WhatsApp, Facebook, Twitter, etc.
★ Create your own playlists and share with friends & family
★ Manage all your music in one personal place.
★ Free music streaming at low internet speeds
★ Free download unlimited mp3 songs for offline listening
Still reading? You're a true Gujarati!
Like us on Facebook: https://www.facebook.com/JalsoMusic
Follow us on Instagram: https://www.instagram.com/jalsomusicandpodcastapp/
Subscribe to our YouTube channel: https://www.youtube.com/channel/UCpnXOuwr2poII9SGaezgYlA
Send Feedback: [email protected]
All content is legitimate and duly licensed.
All content in the app, including, but not limited to, text, data, graphics, logos, button icons, images, audio clips, video clips, links, digital downloads, data compilations, and software is owned, controlled by, or licensed to Servashanti Properties Pvt Ltd and is protected by copyright, trademark, and other intellectual property rights. Material on the app is made available solely for your personal, non-commercial use and may not be copied, reproduced, republished, modified, uploaded, posted, transmitted, or distributed in any way, including by e-mail or other electronic means, without the express prior written consent of Servashanti Properties Pvt Ltd in each instance. You may download material intentionally made available for downloading from the app for your personal, non-commercial use only, provided that you keep intact any and all copyright and other proprietary notices that may appear on such materials.
Important Link