Gyanparab Magazine PDF : GyanParab Is A Monthly E-Magazine For General Studies.It Is Published By Mithun Patel. Gyanparab Magazine PDF Is Very Useful For Preparing Competitive Exams Like TET,TAT,HTAT,GPSC,Talati,Clerk,Police Constable  And Many More. This is a very useful E-Magazine for Gujarat Level any competitive exams. Gyanaparab is a e-magazine.
Gyanparab is available on various blogs and sites. Gyanparab Magazine is officially published on our site www.shikshanjagat.in. Hello Friends ! Shikshanjagat Site Is for Gujarati Competitve Exams Like GPSC,HTAT, Police,TET,CLerk,Bank etc. Preparation. On this site you will find lots of material for Exam Prepartion in Gujarati, Hindi And also in English. Keep Visiting This Site Daily to Improve your Knowledge.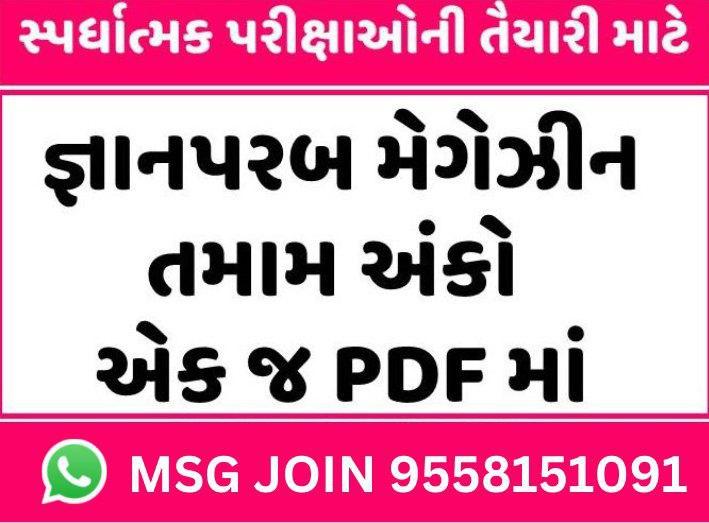 As we are aware that General Knowledge (GK) is very important area in all the competitive exam held in the country. Most of the aspirants feel difficulty in scoring good marks in it. Now a days, a good knowledge of general awareness is very important in clearing any competitive exam. To over come all this you should have a understanding of the things happening around you.
Gyanparab GK plays a major role in general awareness section of any government exam. In banking exams, the GS section is mostly based on Current Affairs and financial awareness. If we talk about SSC and UPSC exam, around 20% questions asked from the Current GK. You need to learn Current GK along with Static GK.
Download Gyanparab Magazine PDF
Here is all 52 Issues of Gyanparab E-Magazine in single PDF. This PDF contains 1290 Pages and size of 50 MB. So plz download this file for all competitive exams.
Download All Issue of Gyanparab E-Magazine