Life Insurance Corporation of India (LIC India or LIC) is the national insurance provider in India. LIC agents work independently, like contractors, and help LIC acquire new customers. Being an LIC agent is a preferred profession for many students, business owners, homemakers, retirees and even people with full-time jobs. In this article, we describe how to become an LIC agent and discuss the qualifications and skills that are essential for this role.
How To Become An LIC Agent?
While figuring out how to become an lic agent, follow these steps:
Contact the right individuals. Get in touch with the nearest LIC branch in your city and contact the Development Officer. You can also fill the online application form to 'Want to be an LIC agent' on the official LIC website and wait for the Development Officer to contact you.
Participate in an interview. Clear the interview conducted by the Branch Manager.
Complete training. Complete the Insurance Regulatory and Development Authority of India (IRDAI)-mandated training (duration: 25 hours) at the Divisional or Agency Training Centre.
Pass the examination. Clear the Pre-Recruitment Examination (IC38) conducted by IRDAI (with a minimum of 35% score or at least 18 correct answers of the total 50).
Obtain licensing. Obtain the appointment letter and agent licence from LIC to start working.
Complete reporting. Report to the Development Officer on your progress, achievements and challenges.
Once you begin working as an agent, you can easily manage your work and goals using the LIC Agent App or the Agent Portal on the LIC website. Please note that you are required to pay nominal charges for the registration, training and examination. The total expenses you incur, including all the charges and costs for study material, is usually around ₹1,000.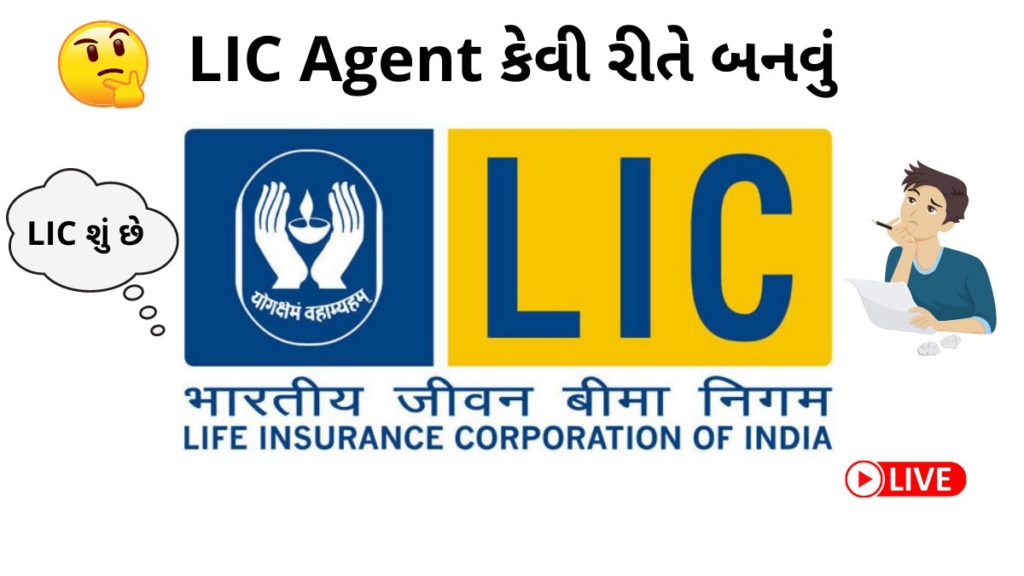 What Are The Roles And Responsibilities Of An LIC Agent?
The LIC agent acts as the first point of contact for many people who buy an insurance policy from LIC. They promote the benefits of the policies to individuals, families and businesses who wish to secure their future protection of life, health and property. Besides marketing and selling policies, LIC agents maintain records, help policyholders settle claims and offer advice to customers to minimise risk.
Depending on the area of specialisation, LIC agents may focus on only one type of policy or offer their services for all types of insurance. They act as the interface between the insurance company and its policyholders to ensure compliance as well. Since they have received basic training in the insurance industry, they can also become agents of other insurance companies.
Benefits Of Becoming An LIC Agent
Many individual may consider LIC agent a good career because of the benefits associated with the role. They are:
Flexibility
One of the biggest draws of becoming an LIC agent is the flexibility and freedom to work. Unlike a traditional full-time job, people who become LIC agents have more autonomy over their working hours. LIC agents can choose to work as per their preferred schedule, as long as they meet their targets. The role is suitable for people who cannot pursue a full-time career, although full-time employees may choose working as a LIC agent to supplement their income.
Training and development
The basic training and career development opportunities provided by LIC help you become a specialist in insurance sales. People with no prior experience in the insurance or finance industry can easily gain the required skills and knowledge through the training programme. The training is available at a nominal cost to all applicants.
Additional income
If you are looking to earn extra income in addition to your existing job or business, or simply utilise your free time in a different way, becoming an LIC agent is a great option. Most agents pursue multiple jobs and supplement their incomes by becoming LIC agents. You can also become an LIC agent full-time if you wish.
Increased financial literacy
Besides increasing income and career development opportunities, working as an LIC agent can also increase your financial awareness and literacy. The knowledge you gain while working as an LIC agent can help you make better financial and investment decisions. Thus, becoming an LIC agent can improve your life in more ways than one.
Attractive benefits
Top agents can earn handsome commissions and win attractive perks from LIC. There are different 'clubs' for each agent, based on their performance. Those in higher clubs get higher commissions, allowances and other benefits. LIC agents can also secure approval for loans and credit at lower rates.
Field and sales support
LIC offers extensive infrastructural, marketing and technical supports to its agents in the field. Well-designed tools, collaterals and assets are available to agents as well. There is complete transparency over commissions and benefits as an exclusive agent portal and app is used to manage the performance.
Low entry barriers
There are minimal barriers to becoming an LIC agent. If you have completed your 10th standard examination (secondary school) and are 18 years of age, you can apply to become an LIC agent. The cumulative charges for registration, exams and training are typically affordable, and people from diverse socio-economic backgrounds can apply easily.
Why Does LIC India Recruit Insurance Agents And Advisors?
Since 1956, LIC India has been the largest insurance provider in the country. Even after private businesses entered the market, LIC has maintained its leadership and sustained high levels of customers' trust and reputation. The company offers many insurance policies and instruments related to life, health and property insurance, alongside financial and retirement plans.
LIC India recruits agents and trains them to take its wide range of policy and insurance products to the public. The company maintains its growth and scale partly because of the millions of independent agents that work with LIC. They form a pivotal part of the LIC India ecosystem.
What Are The Skills Of An LIC Agent?
Consider the following skills to become a successful LIC agent:
Communication skills
The LIC India website states that their agents are required to be master communicators. People with effective communication and persuasion skills can market policies better, service customers satisfactorily and engage clients. Remember, you can improve your communication skills with regular practice and training.
Time management and self-motivation
Being able to manage your time is vital to being an LIC agent. Since you do not have a manager to tell you what to do and how to do it, staying motivated and committed is important. Similarly, if you are doing multiple jobs simultaneously, be sure to allocate sufficient time towards your role and fulfil your responsibilities professionally.
Passion and ambition
Disciplined, committed and ambitious individuals tend to perform well as LIC agents. To be a successful LIC agent, focus on your goals. Take ownership of your targets, not get deterred by rejection and keep your development officer updated about your progress.
Customer service-oriented mindset
Having a customer-focused mindset can be a significant advantage while working as an LIC agent. Besides answering questions about insurance products and policies, having a problem-solving attitude allows for better customer service. Remember, LIC agents act as the link between the customer and the company. Thus, it is important that they offer accurate, reliable and clear information without making false promises.
What Are The Educational Qualifications For Becoming An LIC Agent?
To become an LIC agent, you are required to have passed the 10th standard (secondary school) examination from a recognised board and be at least 18 years of age. There was a time when candidates had to have completed the 12th standard (senior secondary school) examination. It is important to check the eligibility criteria to ensure you are aware of what you are required to do to become an LIC agent, as qualifications may change over time.
What Documents Do You Require To Apply For LIC Agent Recruitment?
You need the following documents while completing the form to become an LIC agent:
Six passport-sized photographs
A copy of the 10th standard Marks Sheet
Address proof with a voter ID card, Aadhar card, driver's license or PAN card
When Does LIC Recruitment Take Place?
LIC recruitment of agents does not take place at fixed intervals or at a pre-decided time. All candidates who qualify for the exam and have completed the required training get test information individually. If you have registered for the exam, it is advisable to check using the online registration portal, or regularly stay in touch with the development officer.
What Is The Salary Of An LIC Agent?
There is no fixed salary for LIC agents. Commissions made on new policies or the renewal of old policies make up all the earnings. The commission percentages varies significantly based on the type of policy and the agent's club. LIC agents may receive festival advances, furniture allowances and reimbursements of mobile and telephone bills. The company also offers financial and non-financial rewards based on the performance of individual agents. Agents also get gratuity and recurring income from renewal commissions after they retire.
IMPORTANT LINK