The Government of Gujarat's Settlement Commissioner and Land Record Department, under SPMU Gandhinagarthe purview of the Department of Revenue, has released an advertisement for the recruitment of a Consultant vacancy for the year 2023. Interested job seekers may obtain the application form and recruitment details from this webpage.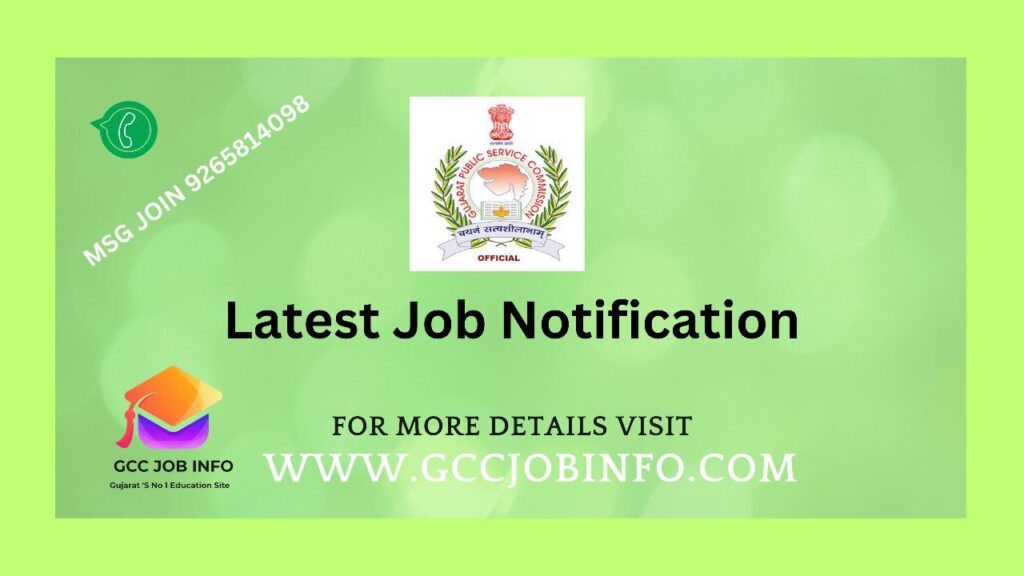 SPMU Gandhinagar Recruitment 2023
| | |
| --- | --- |
| Recruitment Organization | SPMU Gandhinagar |
| Posts Name | Consultant |
| Vacancies | 3 |
| Job Location | Gandhinagar |
| Last Date to Apply | 16-09-2023 |
| Mode of Apply | Offline |
Key Responsibilities:
I. The individual is accountable for overseeing the daily program management tasks and monitoring the advancement of the project.
II. It is imperative to maintain regular communication with senior management and other key stakeholders regarding the progress of the project and the coordination with the Ministry of Planning (MOP) in relation to the SCAM ITV scheme.
III. Comprehensive Implementation and Assistance to States and Survey of India.
IV. Provision of Aid to State Revenue Departments in the Assessment and Supervision of Large-Scale Mapping through the Use of Drones.
V. Consolidate the attribute information and other secondary information to be incorporated into the Geographic Information System (GIS) database.
VI. Provide support for ground-truthing of maps to provide training to field officers on SVAMITVA, GIS, and any other issues that may arise in the future.
VII. Facilitate the signing of a Memorandum of Understanding (MoU) between the State and the Survey of India, and monitor the implementation timelines and provide guidance to field offices.
VIII. Facilitate project progress reporting through regular updates in the Monitoring Dashboard of the Scheme.
X. Candidates possessing desirable knowledge in media and public relations-related fields.
XI. Any other relevant activities assigned by the State government.
Eligibility Criteria:SPMU
Age Limits
Applicants are required to be under the age of 35 at the time of the advertisement's publication.
Education Qualification
•Any individual who has completed a Bachelor's or Master's degree in fields pertaining to Engineering, Science, or Management.
Work Experience
1. Experience in GIS base surveying
2. Knowledge of project management tools
3. Exposure to IT
4. Having a clear mind for widely spread offices and project
Applicant Needs
• Knowledge of latest GIS Survey technologies
Experience in geospatial datasets and databases
Salary/Pay Scale
Selection Procedure
Prospective candidates shall be evaluated and selected based on their academic achievements in their undergraduate and postgraduate studies, as well as other advanced educational pursuits, in addition to their years of professional experience.
The ultimate decision will be rendered subsequent to the interview.
Important Links
Important Dates:
| | |
| --- | --- |
| Event | Date |
| Last Date | 16-9-2023 |
FAQs:SPMU
How to apply for the SPMU Gandhinagar Recruitment 2023
eligible candidates are required to submit their application along with copies of all necessary documents and a passport size photograph via Registered A.D/ Speed Post only.
The address for submission can be found in the advertisement. Applicants must send their applications to the Settlement Commissioner and Department, Stamp Duty Bhavan, near KH-5 Circle, sector-14, Gandhinagar-382016, either by post or in person, no later than the 16th of September, 2023.
The post first appeared on the GCC Job Info Official Website.
Please remain connected with gccjobinfo.com to receive the most recent updates.
Important Notice:
Kindly ensure to verify and authenticate the aforementioned particulars through the official website and/or advertisement or notification.