TAT SECONDARY Online apply||Notification and more details||Exam Results||Answer [email protected]
State Examination Board, Gujarat State, Sector-21, Gandhinagar Teacher Aptitude Test (SECONDARY) (-SECONDARY) Exam online form filling has started which the link to fill online form exam date and various other information is given in this article.
Education Department, Secretariat Gandhinagar Resolution No. : ED/MSM/e-file/5921/G, dt. From 29/04 2023 as per the goals of National Education Policy 2020 and Mission Schools of Excellence, it has been decided to conduct 'Teacher Aptitude Test – with dual format for the purpose of quality education.
TAT exam Gujarat information
In pursuance of this resolution for the qualified candidates prescribed by the State Examination Board dt. Notification No: Rapbo S/ 20235436-5476 dated 01/05/2023 has published the detailed notification of Teacher Aptitude Test – (Secondary) – 2023. Candidates can visit the following details http://ojas .Gujarat.gov.in online registration form and can pay the fee through net banking which all the candidates are requested to note.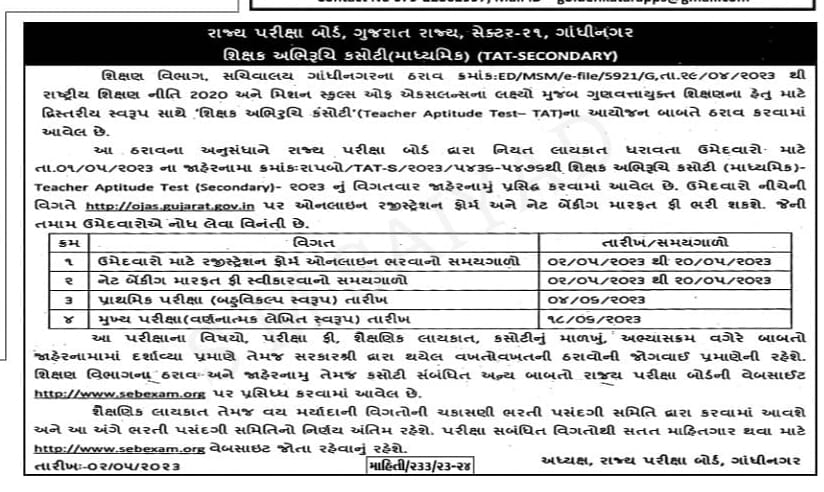 important Date/Duration
Duration for candidates to fill registration form online
02/05/2023 to 20/05/2023
Fee Acceptance Period through Net Banking
02/05/2023 to 20/05/2023
Preliminary Examination (Multiple Choice Form) Date
04|09|2023
Main Examination (Descriptive Written Form) Date
18/06/2023
How to Applyt
The subjects of this examination, examination fee, educational qualification, structure of the test, syllabus etc. shall be as mentioned in the notification and also as per the provision of resolutions passed by the Government from time to time. Resolutions and Notifications of the Department of Education and other matters related to the examination are published on the website of the State Examination Board http://www.sebexam.org.
exam detail
The details of educational qualification as well as age limit will be verified by the Recruitment Selection Committee and the decision of the Recruitment Selection Committee will be final. http://www.sebexam.org website has to be kept up to date with exam related details.
Syllabus 2023
TET Syllabus 2023 is one of the most searched queries. Candidates who look forward to appearing for the TET 2023 examination search for the appropriate Syllabus and topics. The TET exam syllabus 2023 is prescribed by the respective state authority or government. The syllabus 2023 is usually divided into two parts for Paper 1 and Paper 2: Paper 1 Syllabus: The syllabus for Paper 1 includes topics from Child Development and Pedagogy, Language-I, Language-II, Mathematics and Environmental Studies
Paper 2 Syllabus: The syllabus for Paper 2 includes topics from Child Development and Pedagogy, Language-I, Language-II, Mathematics and Science or Social Studies/Social Sciences.
Important link:-
Online apply TAT
Important Links :TAT Syllabus Click Here
Advertisement Click HereOfficial Website Click Here
Apply Online Click Here